With the warmth of summer wrapping the great state of Minnesota in its arms for only a fraction of the year, we have to make the most of it while we can. And we believe the best way to do so is with a picnic.
Sure, us Minnesotans know how to make the most of our winters, of course. But you just can't enjoy a picnic in the bitter cold like you can in the summer sun (take our word for it — we've tried).
We've taken it upon ourselves to create the ultimate guide detailing the greatest picnic locations in the state so you can enjoy a fantastic al-fresco summertime lunch. Cross each location off after you visit them — or don't! All of these locations have tons to offer and are worth multiple trips.

Make your Minnesota picnics even greater with one of our Picnic Basket Boxes, chock full of MN-made goods and goodies.
1. Jay Cooke State Park — Carlton, MN
With over 8,000 acres acres of land, Jay Cooke State Park is full of breathtaking scenery that will win your heart over.
With extensive picnicking opportunities along the St. Louis River gorge, atop Oldenburg Point, and along Willard Munger State Trail, you'll most likely want to come back again and again to hit them all.
2. Minnehaha Falls Regional Park — Minneapolis, MN
If you ever find yourself in the Twin Cities on a nice summer day, a picnic at Minnehaha Falls Regional Park is an absolute must.
Running through the park is Minnehaha Creek, which features an Instagram-worthy 53-foot waterfall. Once you're done soaking in the beautiful scenery, choose one of the park's many picnic spots — some you can even reserve!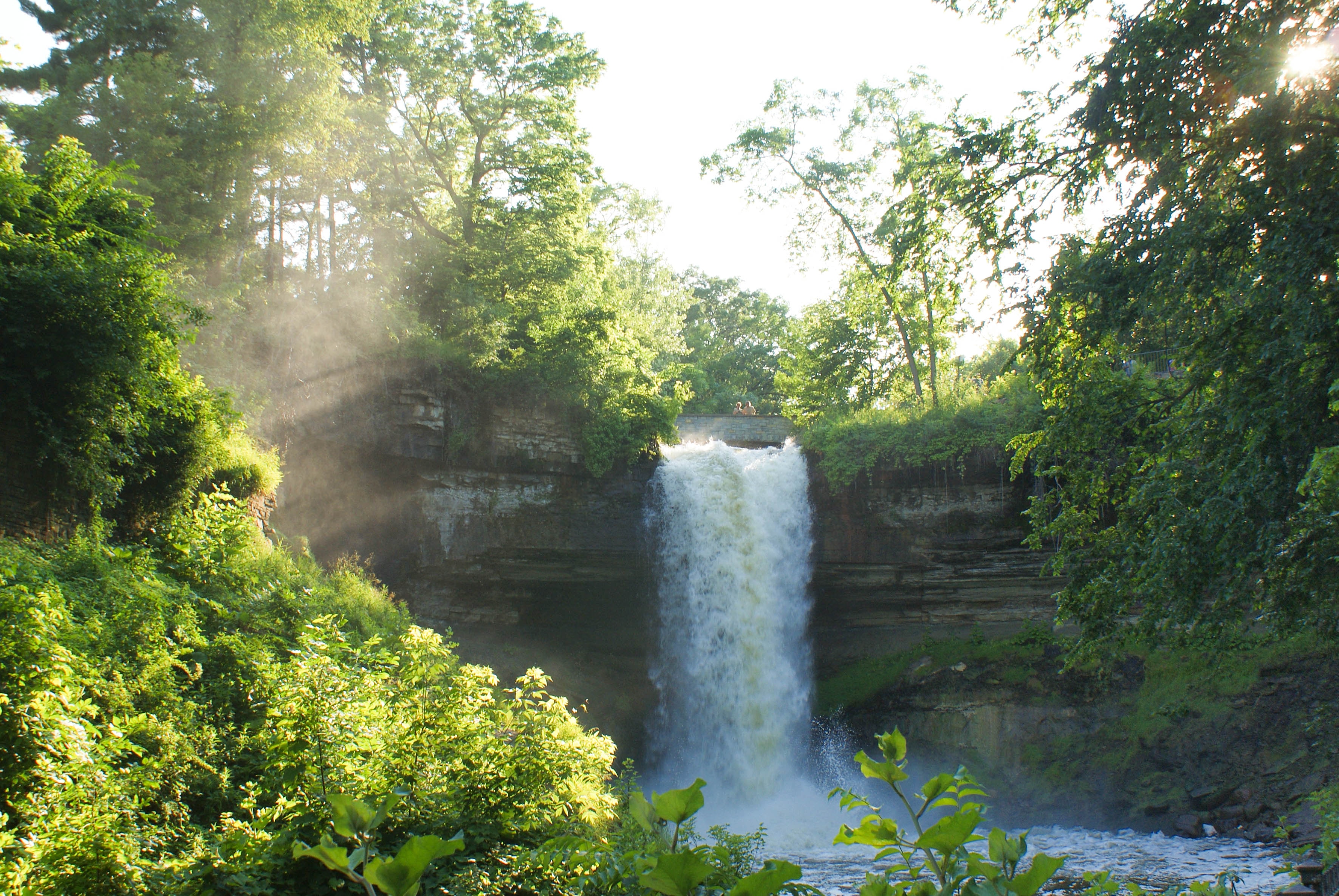 3. Black Beach — Silver Bay, MN
Also referred to as "Onyx Beach," Black Beach is located along Minnesota's North Shore and is known for its black sand and fascinating rock formations. If you're heading up the shore, this is the perfect place to stop for a quick picnic lunch and a swim in the shallow water.
There are multiple picnic tables and fire rings to choose from along the shoreline.
4. Gooseberry Falls State Park — Lake County, MN
Gooseberry Falls is a North Shore picnic destination you can't miss. While there aren't many picnic areas right next to the falls, there are log and stone tables stationed in picturesque locations all throughout the park.
Choose to pitch your picnic at the mouth of Gooseberry River, on a cliff formed by lava over a billion years ago, atop a hill overlooking Lake Superior, or at the campground shelter — the options are endless.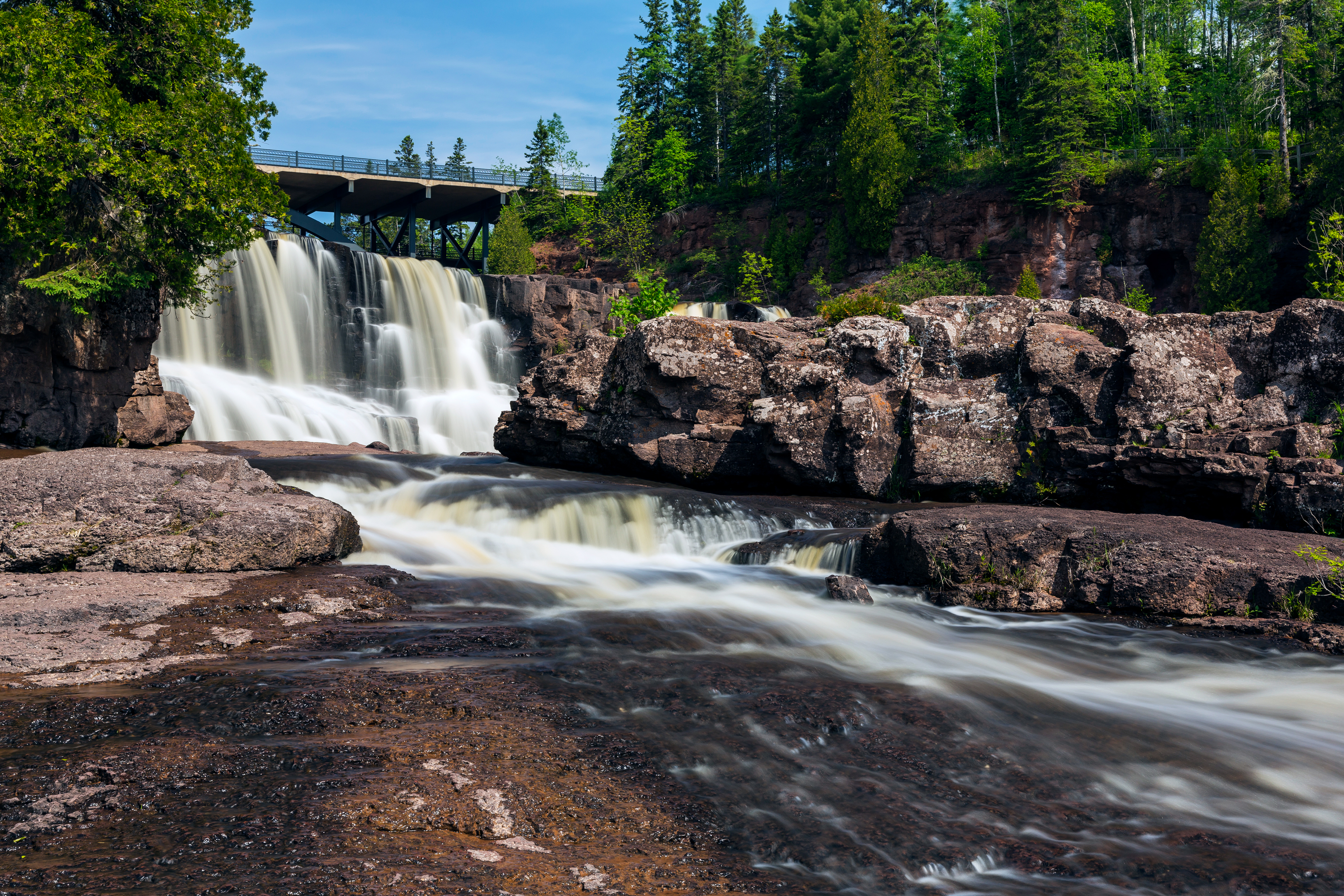 5. Interstate State Park — Taylors Falls, MN
While the two seem to be rivals in just about everything else, Minnesota and Wisconsin share the beautiful Interstate State Park park along the St. Croix River.
After exploring the park's infamous glacier-formed potholes, enjoy a picnic at one of the many tables lining the river. The park also has reservable shelters for large group outings.
6. Great River Bluffs State Park — Winona, MN
Take to Great River Bluffs State Park on the eastern border of the state for a bluff-top picnic overlooking the Mississippi River.
Aside from the campsites, picnic tables are sparse throughout the park. But that doesn't mean you can't still enjoy an outdoor lunch! There are plenty of grassy areas that are perfect for a classic blanket-top picnic on the bluff.
These areas can be found at the end of the Kings Bluff Trail, in the Goat Prairies and at the Kerns Valley Overlook.
7. McCarthy Beach State Park — Side Lake, MN
Located on a strip of land sandwiched between Sturgeon Lake and Side Lake lies McCarthy Beach State Park — a gorgeous area with loads of wonderful picnic locations. So many that it's going to be tough to decide where in the park you should eat. 
There are numerous picnic tables along the beaches of both lakes. Or, if eating in the shade is more your speed, there are lots of tables located under the trees.
And that's our list!
Now that you've got it, there's only a couple things left to do: Make a summer road trip playlist, map out your favorite destinations, and get picnicking!