When you think of potpourri, the first thing that might come to your mind is "What the heck is pot pour ie?"
It's the scent that fills your home and comes in a simmering pot; packed with dried fruits, spices, and herbs.
We chatted with Becky Manteuffel, owner of Simmering Scents located in White Bear Lake, MN, to learn more about her homemade potpourri.
It started as a gift...
Becky is a mother of two kids. She works in the education field as a teacher and coach and also teaches yoga and fitness classes. With her busy schedule, she still finds ways to create healthy, natural alternatives for everyday products.
When it came to gift giving, she wanted to give people practical gifts that would be used rather than sit on a shelf and collect dust. She tried a few homemade gifts like lotions and chapsticks. Then one year, she decided to make and give homemade potpourri as a gift.
She gathered fruits and spices, then sliced and dried them. Lastly, she put everything into a bag and created a label. From then on, Becky kept receiving more and more requests for her signature potpourri.
It started with gifts to family members and extended to teachers, co-workers, and friends. Becky's family members suggested that this gift should have a larger audience.
That is when Becky turned to Etsy and her Simmering Scents business came to be.
"I love the idea that I'm filling all of these people's houses with this fantastic scent," says Becky. "Hopefully it will remind them of a lovely time."
MADE WITH LOVE, PACKAGED WITH CARE.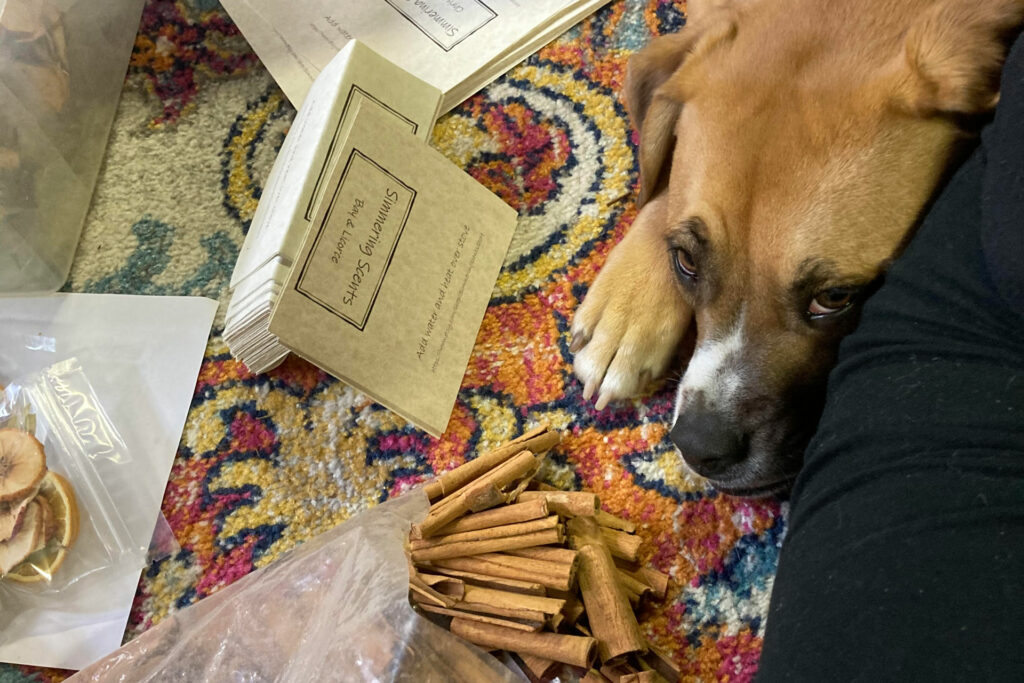 With natural, chemical-free scents, Becky wanted to emphasize the importance of her products being locally sourced as much as possible. Most of the ingredients come from local vendors or even her family's backyard.
The best part of Simmering Scents is that the whole family is involved in the process.
"For me as a mother, I love that my kids are involved. I wanted to teach them that there's value in hard work," says Becky. "I tell them 'if you want to put in some time, and you want to help, let's do it together,' and they do."
Together, they cut, dry, and dehydrate all the ingredients. They then package, sort, and distribute the products.
Some things have changed throughout the years at Simmering Scents. One thing that will always remain is that Simmering Scent's products are made with love and packaged with care.
LEARN MORE ABOUT SIMMERING SCENTS OR SHOP: